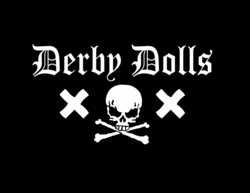 About the L.A. Derby Dolls:
Founded in 2003, the
L.A. Derby Dolls
are the West Coast's premiere women's banked-track, quad-skating, roller derby league. Within the league, four fierce teams battle for dominance: Fight Crew, Sirens, Tough Cookies and Varsity Brawlers with the Ri-Ettes featuring our best athletes that battle it out against All Stars from visiting cities. While their uniforms may be stylish and their names playful, do not be fooled by their appearance. The Derby Dolls are athletes who skate a sport that is unscripted and real. Honored as a Treasure of Los Angeles by the Central City Association, the L.A. Derby Dolls embody the do-it-yourself, "for the skaters, by the skaters" ethos of modern women's roller derby.
The L.A. Derby Dolls are one of only thirteen leagues in the U.S. playing roller derby on a banked track. Like most modern roller derby leagues, the Derby Dolls are volunteer-run and give back to the community that has embraced them. The league also operates the Junior Derby Dolls for girls ages 8-17.
------------------------------
HOME GAMES:
SAT - Jan 21 - LA Ri-ettes vs. San Diego Wildfires (Inter-league)
SUN - Jan 22 - Baby Doll Brawl (All Ages)
SAT - Feb 11 - LA Ri-ettes vs. Missile Mountain Roller Derby from Colorado Springs, CO (Inter-league)
SAT - Mar 3 - LA Ri-ettes vs. Gotham Girls Roller Derby from New York, NY (Inter-league)
SAT - Mar 10 - Los Angeles Derby Dolls vs. San Diego Derby Dolls (March Radness Exhibition Bout)
SAT - Apr 14 - Fight Crew vs. Sirens
SAT - Apr 28 - Tough Cookies vs. Varsity Brawlers
SAT - May 19 - Tough Cookies vs. Sirens
SAT - Jun 16 - LA Ri-ettes vs. Rat City Rollergirls from Seattle, WA (Inter-league)
SUN - Jun 17 - Baby Doll Brawl (All Ages)
SAT - Aug 18 - Fight Crew vs. Tough Cookies
SAT - Sep 8 - Sirens vs. Varsity Brawlers
SAT - Sep 29 - Tough Cookies vs. Diego Rollers (Inter-league)
SUN - Sep 30 - Fight Crew vs. The Swarm (Inter-league) (All Ages)
SAT - Oct 20 - Varsity Brawlers vs. Fight Crew
SAT - Nov 3 - 2012 Championship Game
SAT - Dec 1 - LA Ri-ettes vs. Denver Roller Dolls (Inter-league)
AWAY GAMES:
SAT - Jan 28 - Varsity Brawlers vs. The Swarm @ The Del Mar Fairgrounds in San Diego, CA
SAT - Mar 24 - Fight Crew vs. Diego Rollers @ The Del Mar Fairgrounds in San Diego, CA
SAT - May 12 - LA Ri-etts vs. San Diego Wildfires @ The Del Mar Fairgrounds in San Diego, CA